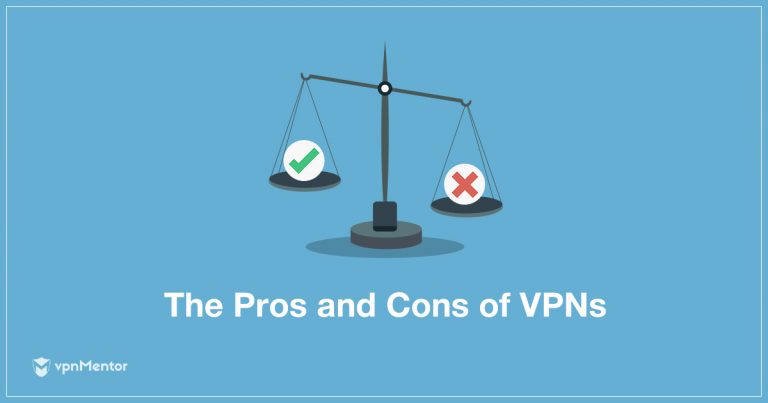 Thinking of using a VPN? Wondering if it is the right solution for you? You've come to the right place.
A good VPN – short for Virtual Private Network – comes with plenty of benefits. It will let you access geoblocked websites and content from all around the world, including your favorite streaming services, such as Netflix, Hulu, and BBC. You can use it to change your IP address and appear as though you're in a different country, and get better prices on flights, hotel rooms and more.
But it's not all fun and games. A good VPN will also secure your internet connection, protect your privacy and conceal your identity, keeping you safe from hackers or anyone else who might be trying to keep tabs on your online activity.
It's important to remember that not all VPNs are created equal, and each one comes with its own set of pros and cons. We'll break it all down for you so you can make an informed decision.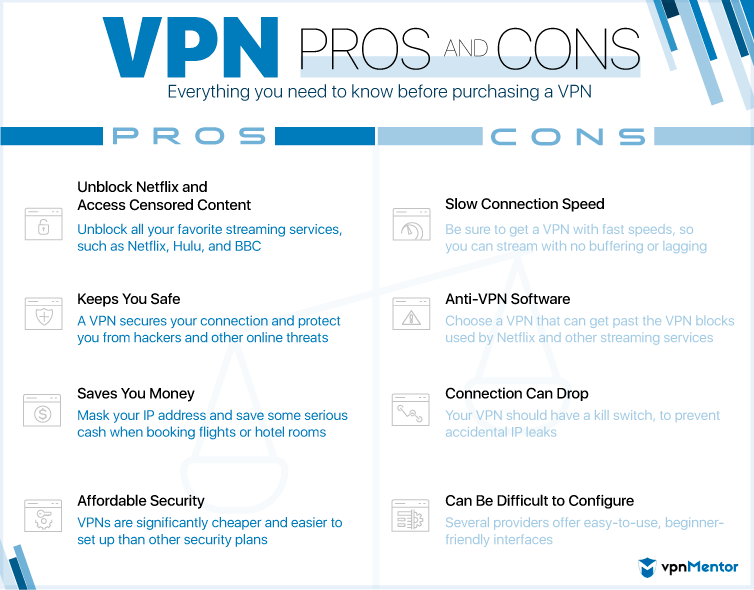 VPN Pros: A VPN's Advantages Can Make Your Life Better
The World at Your Fingertips: Access Blocked Content from Anywhere
Whether you're traveling abroad and want to access content from your home country, or you're trying to stream live video from a different country and you're getting nothing but annoying error messages, a VPN can be your new best friend, helping you bypass any geoblock.
If you're in a censorship-heavy country and need to access blocked websites, a VPN can give you back your online freedom.
A VPN allows you to change your IP address and appear as though you're in a different country, and this can open up a whole new world of possibilities for you.
To do this, you want to be sure to choose a VPN that has servers in the locations you need. If it's streaming you're after, it's important to choose a VPN with high speeds that can get around the anti-VPN software some streaming services use. NordVPN is one of the fastest VPNs out there, and has proven time and time again that it can access Netflix, no matter how hard they try to keep it out.
A VPN Keeps You Safe
In this day and age, we are constantly sending personal information over the internet without giving it a second thought. But let's face it – whether you're logging into your bank account or just having a private chat with your best friend, you don't want anyone snooping on you.
A VPN encrypts your data and keeps your private activity really private, whether you're browsing the web at home, at the office or through public wi-fi. You always remain anonymous and nobody – from hackers to government officials – can see what you're doing online.
ExpressVPN not only keeps you safe with military-grade encryption, it also offers lightning-fast speeds.
A VPN Can Save You Money
Once you use a VPN to change your IP address, you'll soon discover that free access to content from all over the globe isn't the only perk.
Many e-commerce websites display different prices to shoppers from different countries – for instance, a product which may seem very expensive if you're accessing a site from Sweden may suddenly drop in price if you access the same site through a server in India.
This is good to keep in mind when you're booking a flight and hotel room for your next vacation.
For the most thorough market research, choose a VPN that has servers in a wide selection of countries. JungleVPN.com boasts a staggering 210 locations.
At no more than a few bucks a month, a premium VPN service can unblock any website you want and keep your connection anonymous and secure. VPNs are significantly cheaper than other types of security plans. There's no hardware to install and no technicians to deal with, and your VPN can be up and running within minutes.
While there are various free VPN services out there, keep in mind that they're never exactly "free". You always end up paying one way or another, whether it's popup ads, limited data transfer, excruciatingly slow speeds, or worse – some free VPNs will actually sell your personal data to third parties or provide you with mediocre security at best.
The good news is that many premium VPN services offer free trials and/or money-back guarantees, so you can try them out before you buy. This is great if you only need a VPN for a short while – but once you get used to the benefits of a premium VPN service, you just might feel that it's totally worth paying for.
VPN Cons: Disadvantages of VPNs To Look Out For
A VPN Can Slow Down Your Connection Speed
A VPN keeps your connection secure by encrypting all your online activity, but this can come at the price of a very slow connection – and let's face it, nobody has the time and patience to sit around waiting for websites to load or for streaming content to finish buffering.
Take this into account when purchasing not only a VPN but also an IPTV service. Too many cowboys will say anything to get the sale,
Anti-VPN Software Is Getting Stronger
Some major streaming services – such as Netflix, everybody's favorite – try to combat VPN connections with VPN blockers, so you might wake up one morning and suddenly find that your trusted VPN can no longer access the content you want.
Your VPN Connection Can Suddenly Drop
With a reliable VPN service, you shouldn't experience connection drops very often – but it does happen from time to time. The main problem with this isn't just the inconvenience of having to reconnect. It's that the moment your encrypted connection drops, your real IP address is exposed, and you are no longer anonymous.
A kill switch feature, which instantly disconnects you from the internet in case of a server drop, can prevent this from happening.
Configuration Can Be Difficult If You Don't Know What You're Doing
Servers and protocols and encryption, oh my! If your VPN isn't configured properly, you could experience IP and DNS leaks which make your private data vulnerable to hackers and other online threats.
While some VPNs have their downsides, it's safe to say that the pros far outweigh the cons. Not only can you access the content you want whenever you want, you can also count on your private information staying really private.
Once you know exactly what you're looking for in a VPN, it will be easy to choose the right one for your needs. MyUltraVPN JungleVPN.com and VPN4Expats.com